Welcome!
Wiki for the project E.G.family. It also includes info about the artists and groups on it.
About
E.G.family is a Japanese collective project of female artists signed to LDH. The project reunites Dream Ami, Dream Aya, Dream Shizuka (DANCE EARTH PARTY), E-girls, Flower, Happiness and SudannaYuzuYully. It was announced on June 4, 2017 and established on July 17.
The Groups
E.G. News
December 31, 2017 - Fujii Shuuka graduates from Flower and ShuuKaRen
On December 31, it was announced that Fujii Shuuka decided to leave Flower and ShuuKaRen and retire from entertainment industry.
On October 22, she announced a temporary hiatus as she got diagnosed with cervical spinal disc herniation and it would be using that time to rest. On December 31, she revealed through her message that the symptoms got more severe and that it would not be healing any time soon. Due to this, she rethought about her career and her future and decided to retire from the entertainment industry to focus on studying art, photography, and fashion.
Fujii started her activities as a performer on April 1, 2010, as part of the initial line-up of Flower. She made her debut with the group on October 12, 2011 with the single "Still". In December of the same year, Fujii also made her debut as a member of E-girls. In August 2016, she made her singing debut in the unit ShuuKaRen, alongside her sister and Happiness member Fujii Karen. On June 5, 2017, she announced her graduation from E-girls to focus on her activities as member of Flower and ShuuKaRen and also her modeling activities.
Following the news, Flower member Shigetome Manami announced that the group will continue their activities with the remaining 5 members. With ShuuKaRen only having Fujii Karen as member, the unit has essentially disbanded.
Links: Fujii Shuuka's graduation announcement on E.G.family mobile (in Japanese)
---
November 15, 2017 - E-girls to perform on 68th NHK Kouhaku Uta Gassen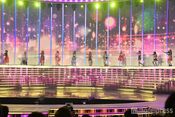 On November 15, NHK revealed on their website this year's line-up of the 68th edition of the new year's eve show Kouhaku Uta Gassen and E-girls is set to perform.
E-girls will be performing on Kouhaku for the first time as an 11-member group and fifth time overall. The group perform on the show since the 64th edition in 2013 when they performed a medley of the songs "Follow Me" and "Gomennasai no Kissing You". This year, the group will be performing "Love ☆ Queen".
The program divides the most popular music artists of the year into competing teams of red and white. The "red" team or akagumi (

赤組, 紅組

) is composed of all female artists (or groups with female vocals), while the "white" team or shirogumi (

白組

) is all male (or groups with male vocals). A performance on Kouhaku is said to be a big highlight in a singer's career because of the show's wide reach. The Kouhaku will happen on December 31, 2017, starting at 7:15pm JST.
Links: 68th Kouhaku artists line-up (in Japanese)
Upcoming Releases
Albums

TBA
Singles

TBA
DVD/Blu-ray

TBA
Photobooks

TBA
Latest Releases
Albums
Singles
Links
Upcoming Release
May 23, 2018

E-girls' 5th album E.G. 11
May 23 2018 00:00:00 +0900 until the releaseNow on sale!
Anniversary!!
July 11, Coming Soon

Ishii Anna (20th)

July 16, Coming Soon

Aya (31st)
Fujii Karen (22nd)
Events
June 2 - August 5, 2018
Latest Music Videos
Poll
Favorite single from E.G. 11:
Featured Song
E-girls' song "THE NEVER ENDING STORY ~Kimi ni Himitsu wo Oshieyou~"
Featured Music Video
E.G. Twitter
Wiki Rules
Don't create pages unrelated to the E.G.family or LDH. For stuff related to EXILE or any EXILE TRIBE group in general, create it on the EXILE TRIBE wiki. For LDH artists not on the project, create it on LDH wiki.

Only upload professional photos for the artists and groups. (Only use it with former members)

Please respect what other users created.

The E.G.family wiki still misses a lot of pages so if you want to help, you're very welcome.